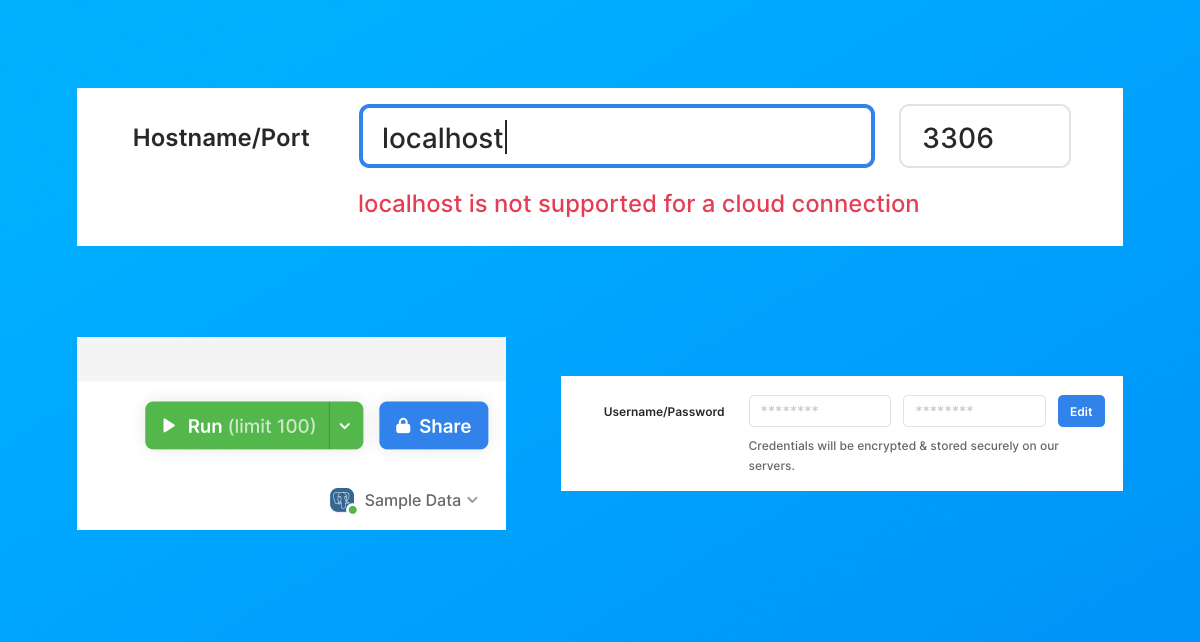 Adding Limit Text to Run Button
A common complaint that we have received from customers was not knowing why their query was being limited to 100 results. While we have a product tour in place that tells you about the feature the first time you run a query, it is easy to click through it, and forget about it months later. To help here, we have updated our "Run" button so that it will say "(Limit 100)" when the setting is active. Enabling and disabling the feature remains exactly the same as before in that you just need to hit the down arrow to the right of the button, and deselect the "Limit 100" checkbox.
Add Warning for using localhost with Cloud Connections
A common thing we get from first time users, especially within the webapp, is asking why their connection does not work, and it is usually because they are trying to connect to their localhost database with a cloud connection. Now, whenever a user inputs "localhost" or "127.0.0.1", they will see a red error text immediately below the hostname field letting them know that localhost is not supported on cloud connections. We are still evaluating this behavior, and may change location of the connection type toggle as well as other UI tweaks to help cut down on the support tickets we receive about this.
Improved Editing for Cloud Connection Username and Password Fields
Previously, we would only fetch the username and password details to be shown in the edit connection UI for cloud connections on the desktop app. This led to a less than desirous user experience on the web app where on opening the edit connection form, the username and password would be blank, and users would edit some other detail and save the connection without realizing that that would overwrite their previously set values with empty values. Users would then end up confused on why their previously working connection would no longer work. To improve things, we now show these values in a disabled input initially, and only on hitting the "Edit" button will we save those details, giving a more consistent editing experience on both desktop and web. We still however will only ever fetch username and password to be pre-filled into those inputs when editing on the desktop application.
Other Fixes & Improvements
Fixed issue where generating PDFs for scheduled queries with empty results would not work
Limiting lengths of inputs on sign up page to prevent potential attack vector for a DDOS attack
Added support for filtering scheduled runs by name on Schedules page
Fixed bug for x-axis not rotating for line chart with time-series data
Fixed bug where clicking edges of export button did not trigger an action
Add support for using gravatar for a user's avatar
Fixed bug where you were not able to change a connection for a scheduled query
Added support for querying binary data in PopSQL
Fixed bug with charts where numerical values were treated as strings for sorting
Ready for a modern SQL editor?