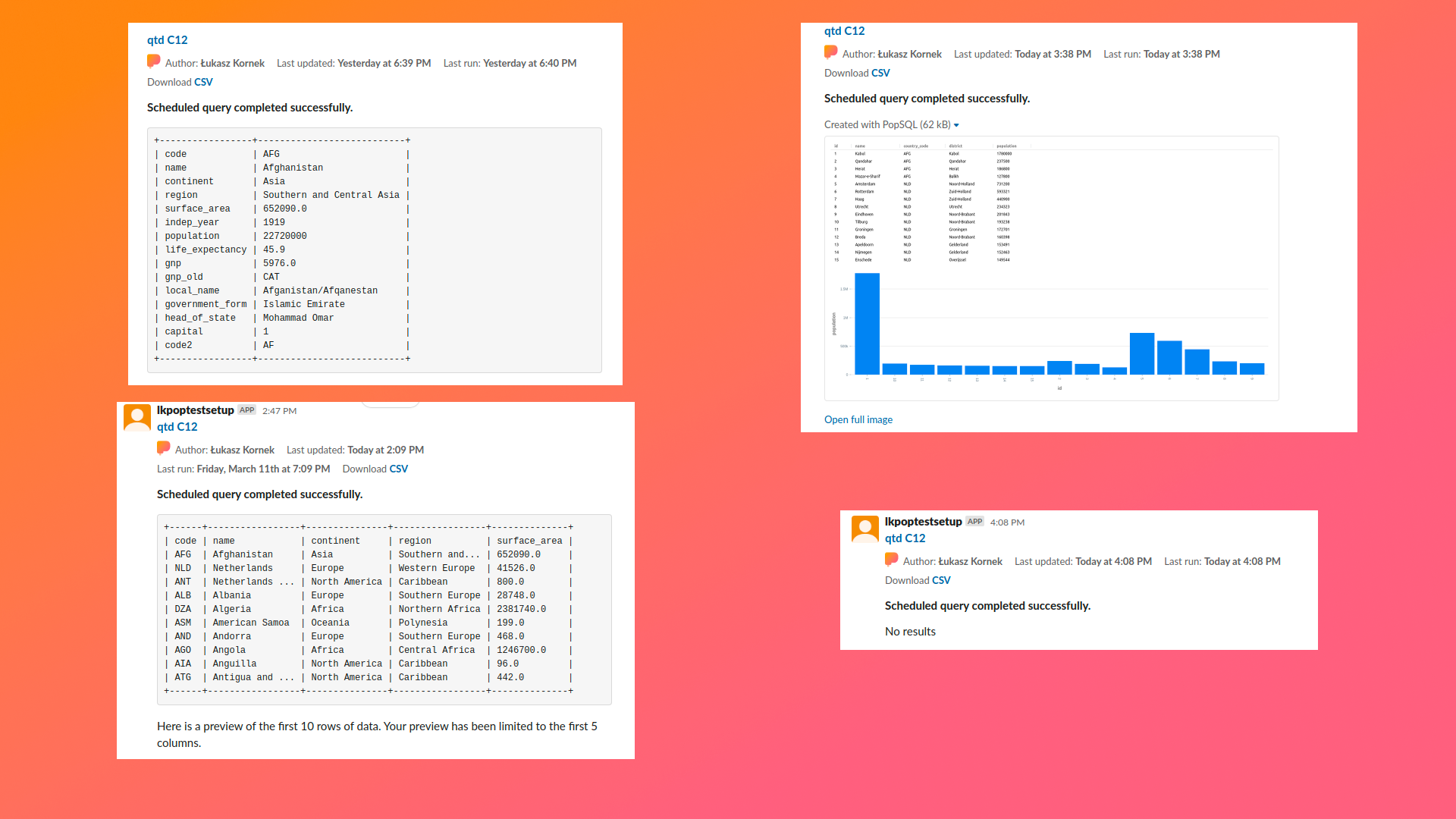 Show sample row results directly in Slack over screenshot
When scheduled queries are configured to post in Slack, we would previously either show a "No results" message or a screenshot of the query results and any chart that had been additionally configured for it. While the screenshot makes sense for queries with charts as there's no other way to display the chart in slack, for queries that only returned data, this added a clickthrough to get to the data, which was especially annoying to users on mobile devices. Now, for these data only queries, we will show a sample of the results directly in slack, while still including the links to presentation. To ensure the table displays equally well without line overflows for both desktop and mobile users, the table is limited to only show 5 columns that are also limited to in max total width that can be shown. Per a Slack limitation of only allowing 3000 characters per message, we also limit the table to 10 columns.
Other Fixes & Improvements
Add backend flag to filter projects fetched for bigquery cloud connections
Limit updating user credentials to 2 per minute to prevent spam emails on rapidly changing emails
Fix crash on adding query with variables to dashboard that did not previously have variables
Fix bug where large BigQuery schemas (512mb+) would not load in Chrome or desktop app
Fix crash on trying to open table, view, or column from search results
Fix Athena only showing first 100 schemas in database
Fix bug where user would need to re-authenticate with BigQuery OAuth after logging in via Google SSO
Make the billing system more lenient dealing with cases where an invoice is overdue
Show descriptions rendered in markdown in the right sidebar trees
Fix bug where existing number and combo charts would not fallback appropriately when applied to a query with different columns
Do not show a past due invoice to users when their trial ends
Improve text contrast on pie charts when using dark colors for the slices
Change the query description input field to be a textarea to make it easier to have multiple lines
Fix formatting of x-axis in tooltip for combo charts
Fix schema refresh button getting cut-off when viewing a connection with a long name
Add preview button to the titlebar when viewing tables or views
Fix case where query result column would be detected as "nulls" when majority of values were null, but not all. In these cases, we fallback to the second most prominent detected type. For example, the column with null, null, 1 will be detected as numeric now instead of null, and will have the numeric aggregation types when charting instead of only count aggregation.
Ready for a modern SQL editor?