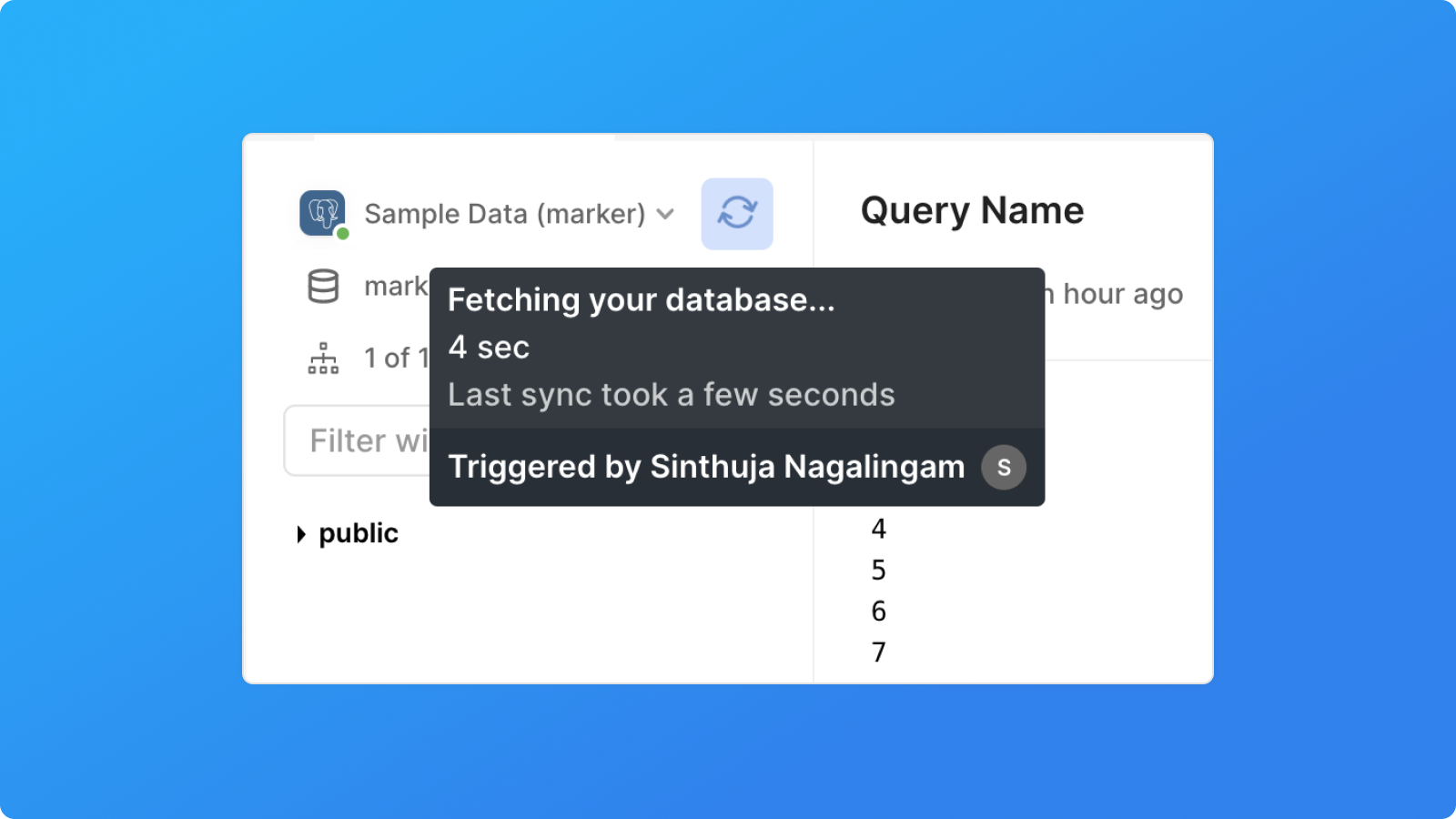 Added more details around refreshing your schema data
We have now updated the schema sidebar to show more helpful details when it comes to fetching your schema data! When you hover over the refresh icon, you will be able to see when the schema was last updated and how long it took to refresh. In addition, we have replaced the yellow "Schema updating" bar that would appear above the tree, with a rotating schema refresh icon. When you hover over the rotating icon, you will be shown even more details on how long the schema refresh has been running for and who was the team member who triggered it. Lastly, once the schema refresh is done, you will see a toast notification on the bottom right of the screen. That way, you can move to another sidebar and still know once your schema refresh has succesfully finished running!
Other Fixes & Improvements
Added support for Clickhouse as a cloud connection!
Added support to fetch schemas for different databases for cloud connections
Added support to show BigQuery functions and procedures in the schema tab
Added the ability to attach a CSV to scheduled slack messages
Added a toggle to the editor settings to enable/disable as an autocomplete selector key
Upgraded WorkOS integration to the latest version
Delayed making any updates to the dashboard until the user has left the input box for a query variable
Fixed bug where legend with many series shown above / below chart would not display properly for bar charts
Improved the way we store data in the app to improve app performance
Reduced the width of the ascii table in our Slack integration to better support when a user embeds a notification
Fixed deep links, so you end up at the right screen after authentication
Fixed open tabs to be dependent on the active organization, so when you switch between organizations, you will only see opened tabs from the current org
Fixed sorting for line charts when using a group by
Fixed chart issues around handling x-axis tick label overflow
Fixed issue with autocomplete results where "undefined" was prefixing a table or view when not using the data catalog
Ready for a modern SQL editor?