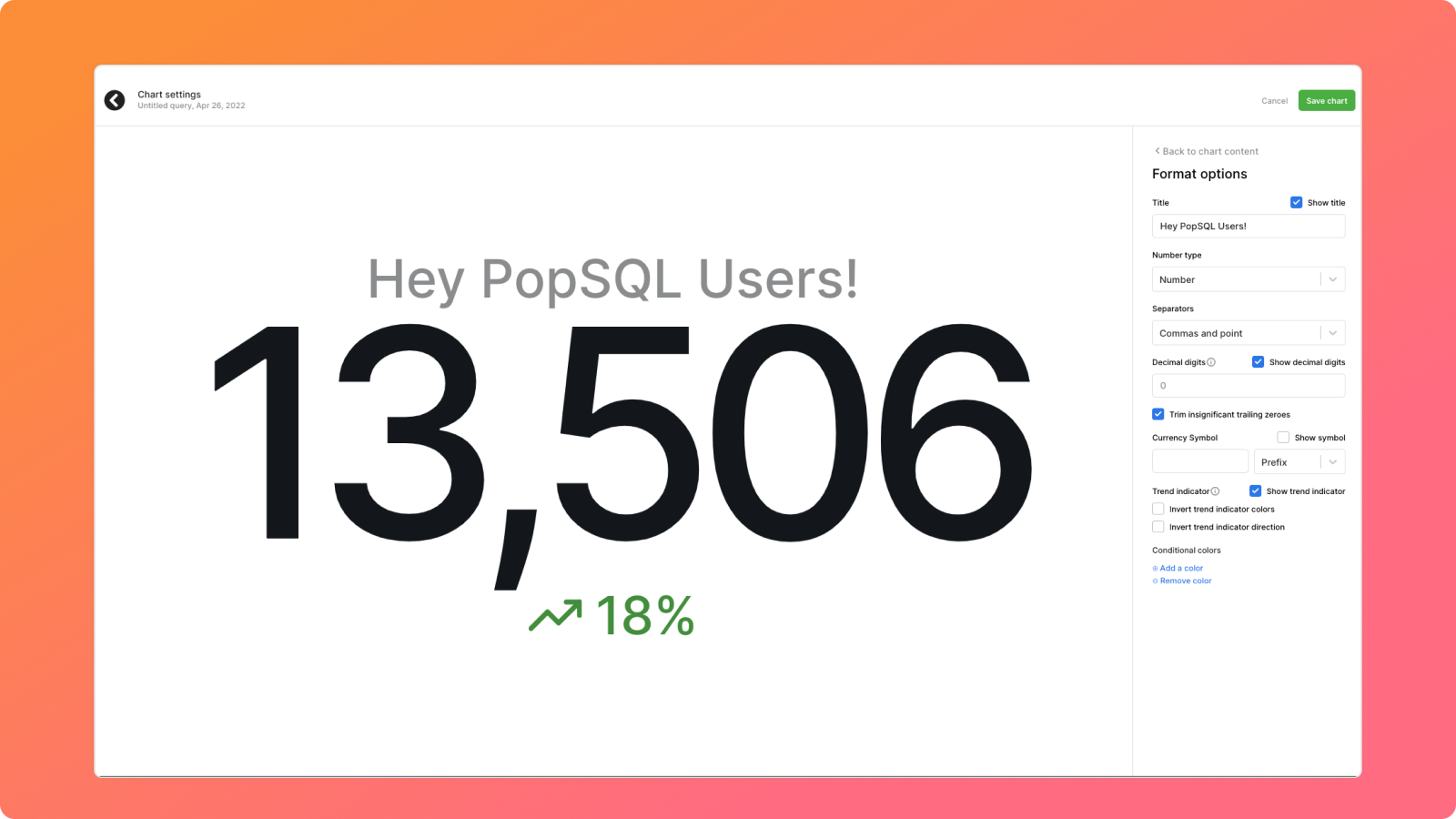 New customization options for big number charts
We added a lot more ways to customize your big number charts. You can now pick the type of format -- number, rounded number, percentage, and raw number. On top of that, you can add currency either as a prefix or suffix, specify the number of decimal digits for number or percentage format, specify the number of significant digits for rounded format, and pick your preferred combination of separators (e.g. commas and point). We also improved our trend indicator, adding a new icon and the ability to swap the both trend direction and color.
Added a locked state to queries when the scheduled query approval flow is turned on
Now, if a user wants to edit a query that already has a running schedule, they will be asked to confirm that they would like to edit the query. If they say yes, we turn off all the schedules on that query. Once they are done editing the query, they can accept changes, and their schedules will automatically be resubmitted for admin review.
Other Fixes & Improvements
Schedules that are waiting admin approval are now sorted by the date they were requested
When a user creates a schedule, we added a confirmation window at the end to summarize all the details
On the Schedules page under preferences, you can now filter scheduled runs by a dashboard name
When a user clicks on the schedule query or dashboard icon, it will automatically open a new schedule modal if there aren't any schedules
When a schema fetch is triggered, we've updated the static yellow bar to be a moving icon, so you know that your refresh is still running
For BigQuery, nested columns have been added to both the schema tree and table details page
For BigQuery, we've added a repeated tag for columns that have the REPEATED mode set
Fixed a bug with the copy results link when results are on the right sidebar
Fixed a bug with populating the project selector for BigQuery in the schema sidebar for direct connections
Fixed a bug with the esc keyboard shortcut not working as expected to escape modals in the desktop app
Fixed a bug that was triggering multiple schema fetches at the same time
Fixed a bug on the chart editor window where the last color selector in the group by section was getting cut off
Fixed syncing issues in GitLab that caused files to disappear and reappear in both Gitlab and PopSQL
Ready for a modern SQL editor?