Introducing PopSQL + dbt. The first SQL editor with built-in dbt support.
Read more →
Shared Connections
Shared connections make it easy for your teammates to adopt PopSQL and connect to the database.
To create a new connection, go to Preferences > Connections and click Add new connection.
Choosing who has access
Towards the bottom of the form, you'll see Who has access?
On our Business plan, you have the ability to grant your whole organization access to the connection.

On our Enterprise plan, you have the ability to choose specific people or teams within your organization that can access the connection. For example, Marketing can access Data Warehouse, and Engineering can access Data Warehouse and Production Replica.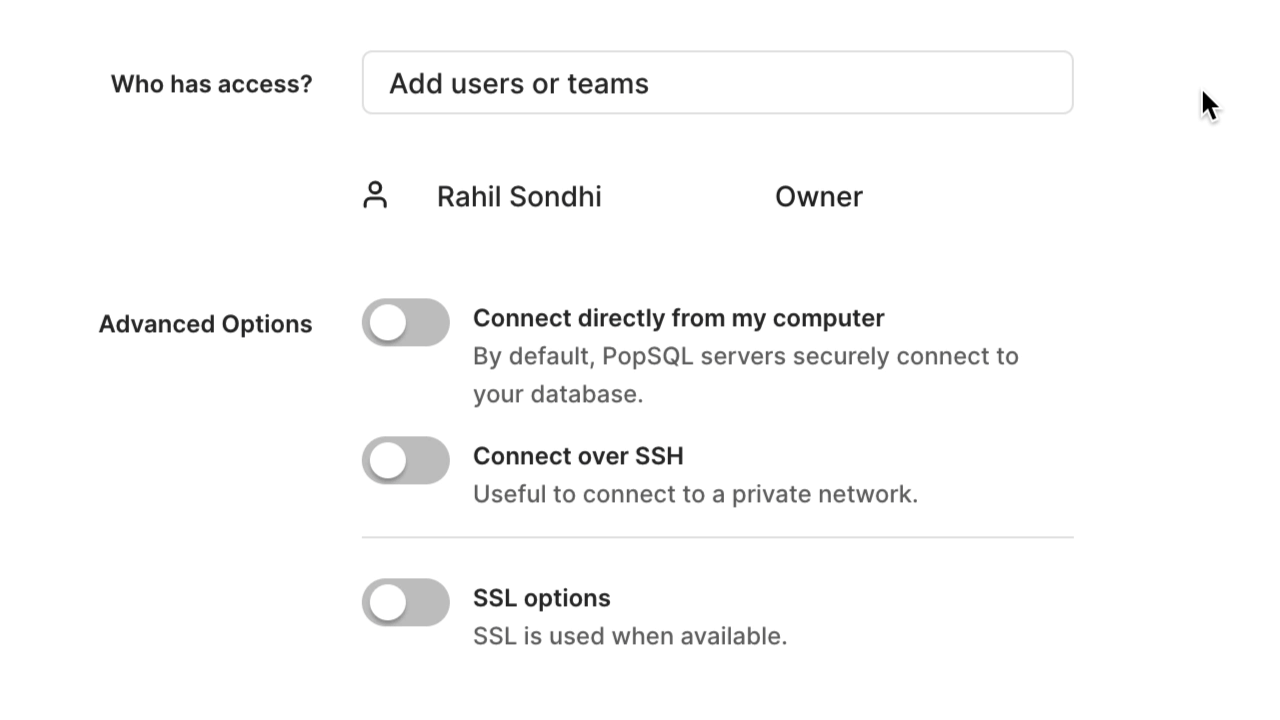 Cloud connections
Cloud connections are where PopSQL serves as the middleman and our servers connect to your database. This is the default and recommended setup in PopSQL because it unlocks several benefits:
Teammates will easily be able to start using PopSQL without spending hours/days hunting for database credentials
You'll be able to use our web app @ app.popsql.com
You'll be able to use scheduled queries and scheduled dashboards

You can use cloud connections in the web app and the desktop app.
Direct connections
Direct connections are where your computer connects directly to your database, and your database credentials stay local on your computer. For example, if your workplace requires a VPN to reach your database, our desktop app is a good solution. Direct connections can only be used in the desktop app.

Enterprise
Enterprise customers have much more control over connections, such as OAuth (BigQuery, Snowflake), AWS RDS IAM, and granular permissions (ie marketing can access connection1, and engineering can access connection2). Please contact us if you're interested.
Security
For information on security, please visit our Security page.
Ready for a modern SQL editor?