Announcing our Integration with Databricks
PopSQL Team
April 8th, 2022
We're excited to welcome Databricks to our collection of cloud database connection partners.
Databricks is an industry-leading, cloud-based data lakehouse platform used for processing and transforming massive quantities of data which organizations can then explore through notebooks, analyze with SQL, or develop into machine learning models.
Created by the original creators of Apache Spark™ and Delta Lake, which made having a unified framework for building data pipelines for businesses easy. Databricks pushes that innovation further by providing a cloud platform to help create and easily manage your clusters and explore your business data. As part of their platform, they offer interactive workspaces that expose Spark's native R, Scala, Python, and SQL interfaces.
"The new integration between Databricks and PopSQL makes it that much easier and collaborative for our joint customers across financial services, healthcare and retail to dynamically query, analyze and understand their data sources in Databricks." says Bilal Aslam, Director of Product, Databricks.
With the addition of Databricks client to our growing list of cloud connections, we're continuing our push to make PopSQL your single platform to take stock of the data that power your business, as well as make collaboration between your technical and business teams a cinch.
So go ahead, connect PopSQL to your Databricks instance today, and let us know what you think.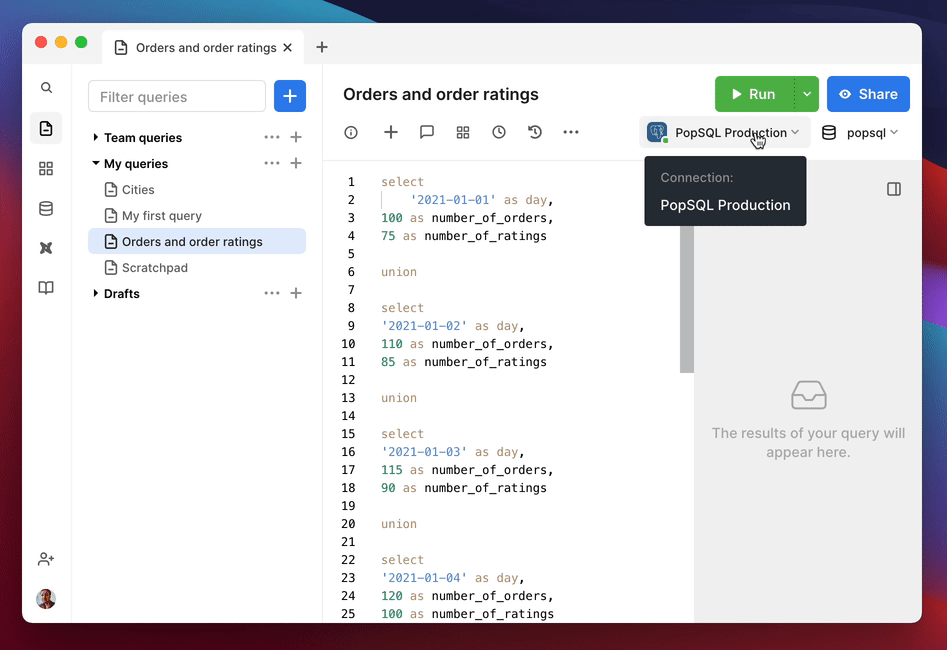 For more information, check out our docs on how to connect to Databricks in PopSQL here.
Ready for a modern SQL editor?