PopSQL Raises $14M Series A from Tiger Global to Help Data Teams Collaborate
by

PopSQL Team
February 9th, 2022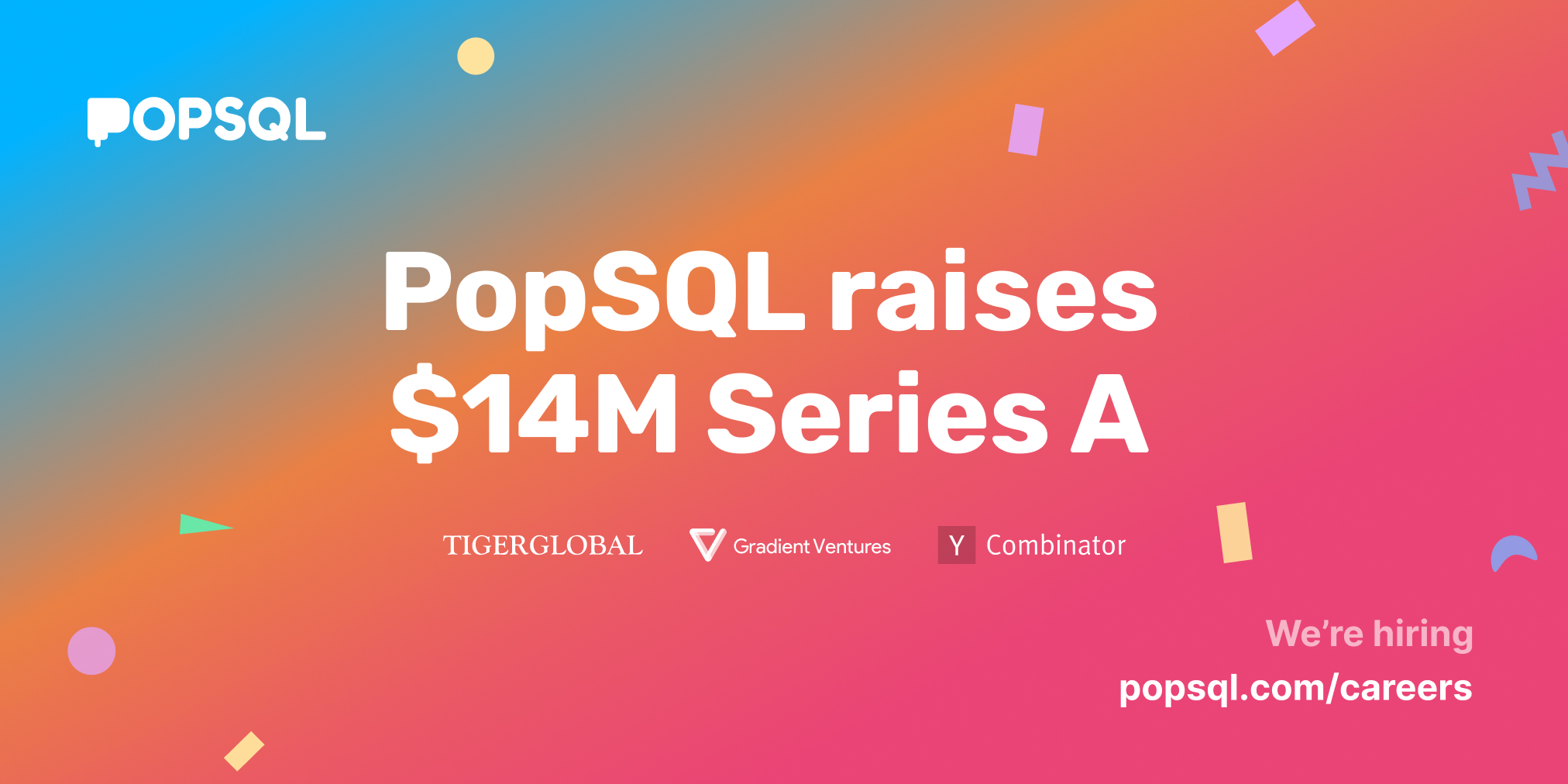 I'm excited to announce PopSQL's latest round of funding, a $14M Series A round led by Tiger Global, with participation from Gradient Ventures (Google's AI-focused venture fund), Y Combinator, and FundersClub.
This funding will allow us to accelerate our mission to help modern data teams turn business insights into action more efficiently, quickly, and accurately.
As part of this milestone, we are also excited to reflect on our momentum as a company. Since we announced our seed funding in September 2020, we have more than doubled our team and 5x'd our revenue. Now, over 2,000 companies use PopSQL globally – including household names such as Vroom, Redfin, Shipt, Udacity, Ramp, and doodle.
Why SQL collaboration is broken
Back in 2017, while working at Instacart, I was heavily reliant on querying data to answer questions from stakeholders and to support any business case I had. At the time, legacy SQL editors had the basic functionality of running the query, but didn't help with the next tasks in my workflow: sharing, organizing, collaborating, and aligning on findings as a cross functional team.
Because everyone used their own SQL editor, we had to drop static SQL files over Slack to share our work, export results into Sheets to get charts, jump into data meetings only to find that another peer had already spent hours writing a similar query with different results, and end up storing hundreds of foundational .sql files on our desktops, which were unsearchable by anyone else. And when anyone on the team left, the company lost years worth of queries.
So, what's the impact? Gartner has reported that "through 2023, data scientists and analysts will lose 60% to 70% of their productive time to activities like finding, preparing, integrating and sharing datasets." If you're a VP of Analytics leading a 50-person team, that means you're operating more like a team of 15-20. Not great. What makes this even more costly is that this challenge is ubiquitous across all industries and departments.
Additionally, today's explosion of solutions in the data space – from ETL, warehousing, CDPs, data modeling, and BI tools – has led to an exponential increase in data volume, velocity, and variety. Coupled with remote and hybrid work environments, teams are even more isolated from each other, making it increasingly difficult to find data, understand it, and get answers.
Bringing teams together with SQL
Many businesses have recognized that realtime collaboration has become critically important to help teams move faster and more cohesively. Designers have Figma, project managers have Notion, and engineers have GitHub. Data focused teams now have PopSQL.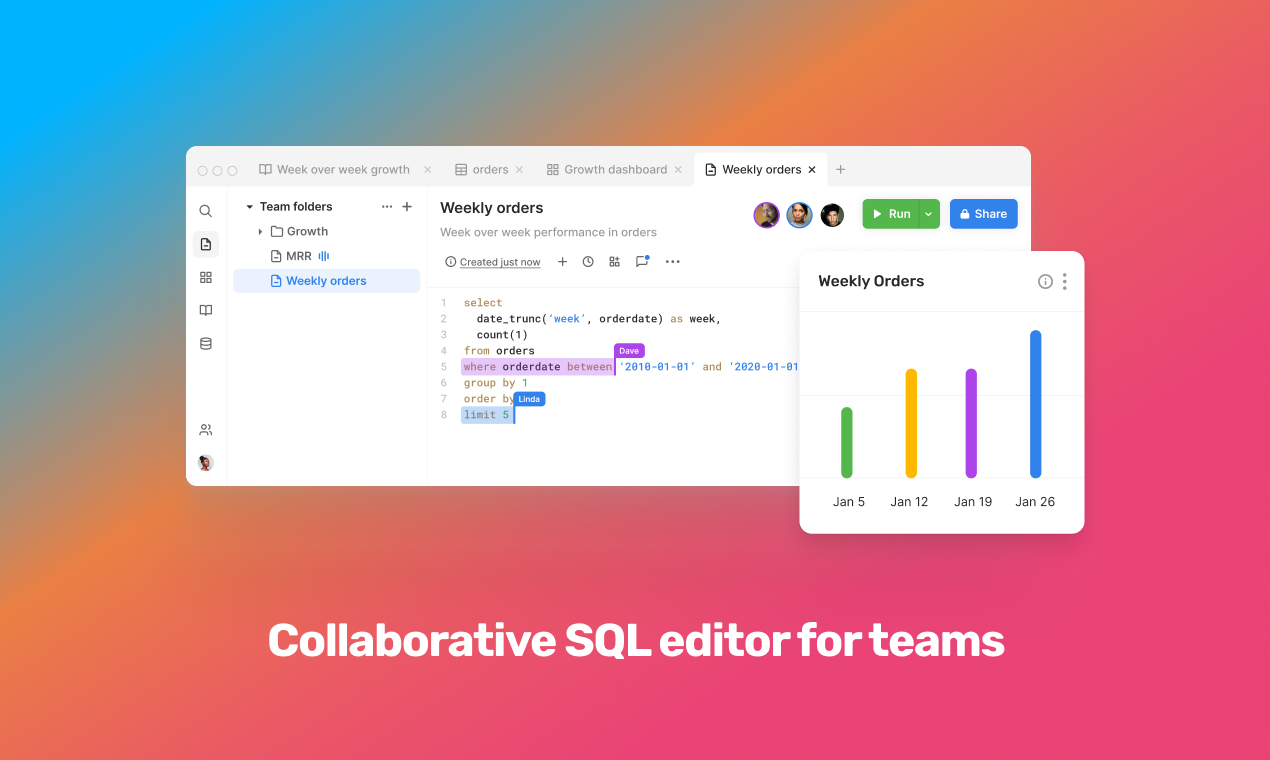 With PopSQL, users can easily understand their data model, write version controlled SQL, collaborate with live presence, visualize data, share results, and organize foundational queries for search and discovery. Even if your team is already leveraging a BI tool or a variety of SQL editors, PopSQL enables seamless collaboration between your SQL power users, junior analysts, and even your less technical stakeholders who are hungry for data insights.
Given the gaps in the market, we have also recently added solutions to deliver additional business value for customers, including:
What's Next at PopSQL
At PopSQL, we believe your SQL editor should do more than just query and deliver results from your database. During this next chapter of growth, we are excited to help our customers continue to harness the power of their data.
Given our aspirations and the work ahead, we are investing heavily in our team. We're currently a tight-knit group of 12 and hiring a ton! This is just the beginning and an exciting time for us, so we are looking for a diverse group of people to join us on this journey to provide delightful experiences for our customers.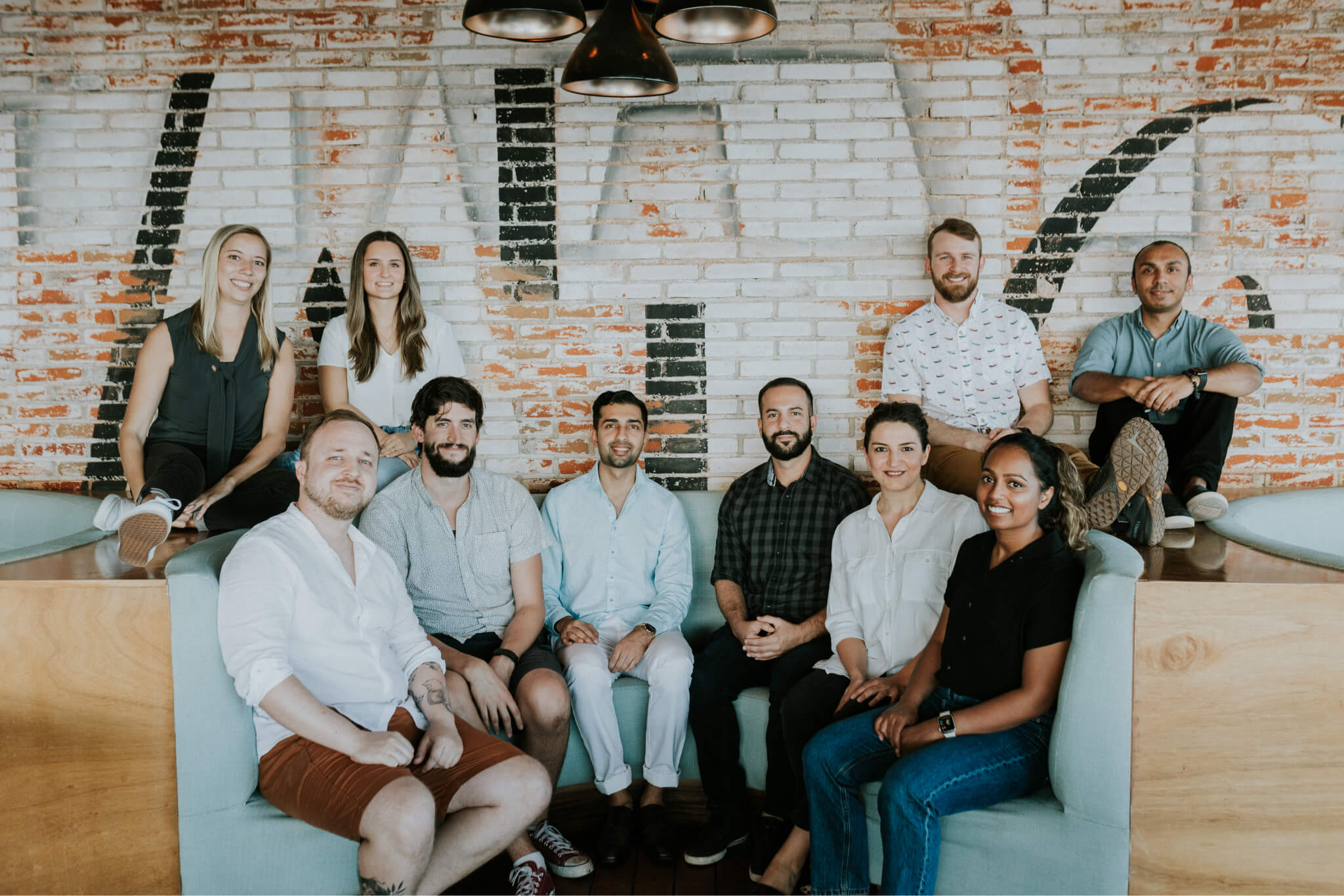 It's time to expect more from your SQL editor. We are just at the start of what's possible.
If you'd like to learn more about how PopSQL can work with your organization, please email us at hi@popsql.com.
Ready for a modern SQL editor?